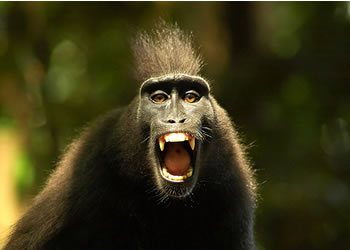 A recent article by Web Worker Daily really got me thinking. The article talks about Twitter as a presence indicator.
With all the distractions that these programs and services provide, are we really being present? Are we being mindful, in touch equally with our rational and emotional minds?
I don't see how.
I think Twitter kills productivity. I know that I'm more productive when I'm not blasting my presence to the world. And I think I'm more in touch with myself.
There's a reason people typically withdraw from the world to meditate, pray, or find themselves. If we're busy being present to the rest of the world, we're not really present to ourselves. At least that's my opinion. I find the terminology ironic.
By the way, I'm not really an angry monkey, like my friend up there. I just thought the picture was awesome!
Have you signed up for my awesome email tips? Sign-up below or via this form.
Photo by dboy
Get more legal tips

Sign-up below to receive my bi-monthly email newsletter with free legal tips. All fields are required.




See also...
Comments