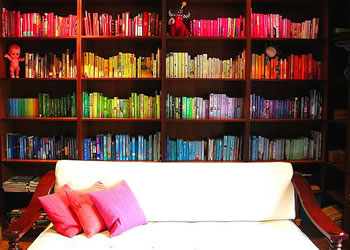 I love selling books online (basic process, maximize cash, buy cheap books). In fact, my wife just prepared three boxes of books to send off for over $200. Cash!
Selling books online is easy
Yep, it's really a piece of cake. My favorite book buyback site is BookByte. Just enter your ISBN's, print a mailing label, and ship your books. It takes a little while to get your check, but it will come!
BookScouter makes selling books EASIER
If you want to sell your books for the best price possible, check out BookScouter. This is a new service that can be a great tool for book sellers.
At BookScouter, just enter the ISBN for a book. The site will then search a bunch of online book selling sites, and it will display the price for each site. You then immediately know the best place to sell your book.
Improvements needed
I'm definitely excited about BookScouter, but I think the service could use a few key improvements.
Books not found – Some of the books I typed in weren't found at all by BookScouter. I'm not sure why. But surely somebody wants to buy them, at least for a few cents. Maybe the cost of shipping the books in exceeds the profits that the online book selling sites can get.
One book at a time – You can only enter one ISBN at a time. If you are selling many books online, it would be much easier to enter a list of ISBN's in a multi-line text box.
Difficult shipment planning – If you are really into selling books online, you'll likely have lots of books to sell. But you probably don't want to send 20 different boxes of books, one to each of the different book buyers. A cool feature for BookScouter would enable the user to enter multiple ISBN's. Then you could also enter how many different shipments you are willing to make. BookScouter would then check all the prices and calculate which books to send to which book buyer to provide the specified number of shipments, but maximize your cash.
What do you think?
Have you tried BookScouter? What are your thoughts on it?
Photo by chotda
Get more legal tips

Sign-up below to receive my bi-monthly email newsletter with free legal tips. All fields are required.




See also...
Comments