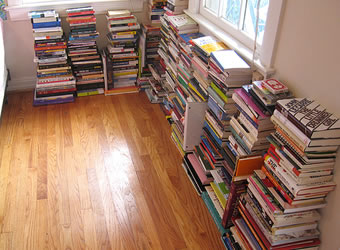 Ever since I wrote about selling textbooks online, a lot of people have read and used that advice. It's definitely a popular post on this site.
Since the book selling season is approaching again (it's almost April!), I thought you guys might appreciate a quick glance at the process.
We definitely don't want anyone hoarding books like the guy in POSSESSED. If you haven't watched that short documentary, do yourself a favor and check it out.
How to sell books online
My previous post focused on maximing your cash. But for this one, let's just look at the basic process. Getting cash for your textbooks is quite simple.
In my opinion, BookByte is the best site for selling your books, and you can even buy textbooks there for 25% to 45% off.
Just follow these quick steps to get some textbook cash:
Go to BookByte
Enter the ISBN's from the textbooks you want to sell
Print your shipping label and packing list
Mail in your books (they pay the shipping!)
Get your cash in about 10 business days
Sell even more books
If you want to really increase your cash, you can become a volume seller. Collect textbooks at your school, send them to BookByte, and get paid in cash.
I think an enterprising college student could do well with this model. You could setup a table at your school to collect books. Have a laptop there to lookup the BookByte cash price for the used textbooks. Then give fellow students a little less cash. You do the work of sending them in, and you can pocket the difference. I'll bet you could still beat the bookstore's buy back price.
Have you ever tried to sell books online? What was your experience?
Photo by One Good Bumblebee
Get more legal tips

Sign-up below to receive my bi-monthly email newsletter with free legal tips. All fields are required.




See also...
Comments