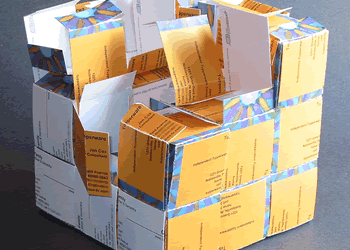 A reader responded to my article about law student business cards, and she asked some very thoughtful questions. In fact, there are some good ideas here for everyone to consider.
Business card and address
First of all, should your business card contain your address?
Let me answer that question with a question: Does it need to?
When you're designing a professional business card, you should always remember the purpose. You want people to be able to contact you. How are people most likely going to do that? Probably via email or phone. Who needs a physical address!
The obvious exception is a store or other place of business that needs people to come to it. Their customers need to know where to go to shop or eat.
But most professionals (including law students and college students) primarily use their cards for networking. If somebody needs your accounting services, they'll probably call to set up an appointment. They usually won't just pop in.
Leaving off your address saves space and it also saves money. While many people are on the lookout for free business cards, you can spend a little extra on some slick cards that you won't have to replace every time you move.
Student on the card?
The reader's next question is whether or not she should put her law student status on her business card.
My response: yes!
Business cards should have your job on them. When you're a student, that is your job. You can't put "lawyer," since you're not a lawyer yet. But you can indicate that you are a law student. The same goes for college students and other graduate students.
But how should you indicate your student status?
Try this: University of Timbuktu, '09
I think this clarifies for your state in life and what you're looking for. At the present, you'd be interested in an internship or part time work. And you're hoping to establish contacts for the future.
More business card questions?
I love writing about business cards. If you have a question or thought, send it my way.
Photo by Randy Cox
Get more legal tips

Sign-up below to receive my bi-monthly email newsletter with free legal tips. All fields are required.




See also...
Comments