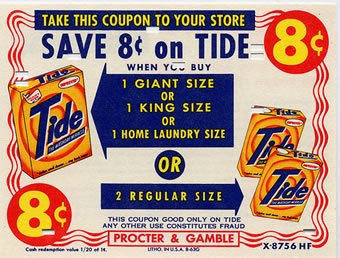 Is there anything on the back of your business cards? There's a ton of wasted real estate back there. You could use it for cartoons. Or maybe try another idea….
Coupons!
For your business card to be successful, potential clients must actually contact you. If they throw away your card or don't call, it's virtually a waste.
But who will throw away a coupon for a service or product they might need? Some people will, but many others will save it, just because it's a coupon.
Free legal help
I'm a lawyer. If I give you a card, you might keep it for that rainy day when you need legal help. But what if the back says that you get 2 FREE hours of my time?
Two hours won't go far in a major lawsuit. But it might make a traffic ticket disappear. In two hours I could review a contract for you or draft a simple document.
If you've ever received a bill from a lawyer, you know that two hours is a significant amount of money. Why would I give that away for free? So you'll use my business card and I'll become your go-to man for legal issues.
I seriously think I'm going to implement this idea. Now, I just need to integrate a cartoon into my coupon.
What's on the back of your business card?
Photo by Roadsidepictures
Get more legal tips

Sign-up below to receive my bi-monthly email newsletter with free legal tips. All fields are required.




See also...
Comments