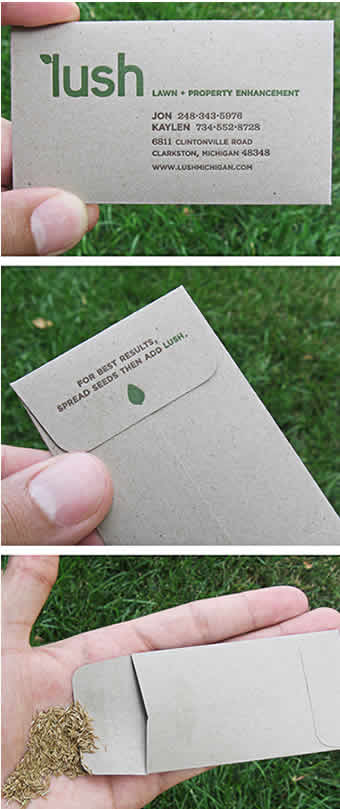 Sometimes I wonder if I'm in the wrong profession. Maybe I should have gone into marketing. I sure love neat marketing techniques.
Check out the cool business card idea I found through AdverBox. It's a business card for a landscaping company. But it's more than a standard business card.
These guys are creative! They made a business-card-sized seed packet and emblazoned it with some catchy typography. Include some seeds, and you're done. This is a business card the recipient will remember!
Always be creative
People love creativity. If you have a boring, white business card, people won't care. They might hang onto it, but only if you were a really compelling contact.
If your business card is creative like Lush's, people will keep it due to the novelty. They'll show it to friends, post pictures on the internet, and blog about it. Creative business cards like this beg to be passed on. They're viral.
Even for lawyers
Just because we're lawyers doesn't mean our cards have to suck. We can come up with creative ideas for our cards too!
Unless you specialize in lawn care law, you might not go with the seed packet idea. Although something like that could work for a lawyer who represents a lot of agricultural clients. Or maybe that's a stretch.
I'm not going to come up with your creative business card for you. The point is that you need to think out of the box. It might even be worth it to hire a marketer or image consultant to help with the design. You'll be glad you did.
Get more legal tips

Sign-up below to receive my bi-monthly email newsletter with free legal tips. All fields are required.




See also...
Comments