Andrew's Note: This is a guest post by a good friend of mine – and awesome link builder – Brandon Hopkins.
When I meet with clients that need my link building services, one of the first things I ask is, "How would you measure success?" In other words, what will I need to do to meet your expectations. This does two things, it helps me understand how much link building and internet experience the client has, but it also allows us to talk mutually about what success means online. Here are a few common problems I hear about and what can be done to meet those expectations.
1. Problem: I want more business! Increased business can come in the form of phone calls or sales (depending on what you're looking for). For those of you in the legal profession that "want more business", you would expect me to deliver prospects that need your legal services. You wouldn't be happy with phone calls (or emails) from people looking for a washing machine.
Solution: Your website needs to show up when someone searches for your services. In order to get more business from your website you need people to find you in the search engines. For this, you generally have two options, organic listings and PPC (pay per click). Organic listings (blue in the below image) aren't purchased from Google while with PPC (red in the below image) you pay Google every time someone clicks your ad.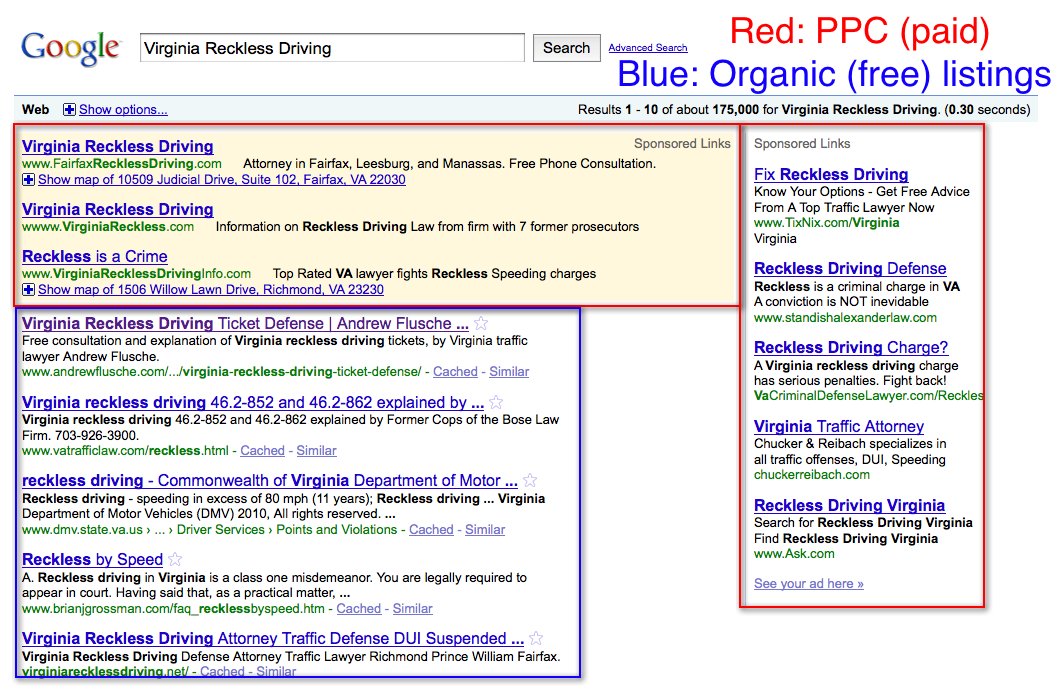 Obviously if you have a choice between free and paid links, you would choose free. However, it does take work and time to get to the top of the organic results. This work consists primarily of building links to your website. Many people start doing this on their own and realize how little time they have, and how many links it takes to make a difference in the search results. If you want to start building links on your own, a good place to start is with a few links from a high quality web directory such, as these.
2. Problem: I'm not getting conversions! If you're getting visitors to your website, but the phone isn't ringing and your inbox is empty, you have a keyword problem! This almost always results from choosing the wrong keywords to focus on. If your website talks about how your are a Virginia reckless driving attorney but you've chosen "Virginia Attorney" as your main keyword, you're going to get people looking for a bankruptcy attorney, tax attorney, defense attorney, and many other parts of the law that you don't specialize in. When these people get to your website, they'll browse around, see that you don't specialize in what they need, and they'll try to find a different attorney.
Solution: You need to have what I call "Actionable Keywords". These are keywords that convey a buyers mentality. For example, a website that sells flowers can choose between a few keywords such as "pictures of flowers", "silk flowers", and "buy flowers". If you're trying to sell flowers, the only keyword that will translate into an order is "buy flowers". The other two search terms may or may not be buyers. They might be 11 year old kids looking for flowers for a school report. That's why selecting an actionable keyword is important.
3. Problem: I rank #1 for an actionable keyword, but I'm not getting calls! If you have carefully selected your keyword, and you make sure it's actionable as we discussed above, but you're still not getting any website traffic or prospects, you definitely have a problem! The problem is usually that your keyword is too small (in search volume) or you're seeing "personalized results" in Google.
Solution: Pick a larger keyword and browse through a proxy. There is a good chance that nobody is searching for "Criminal lawyer for drunk driving case in Northern Antarctica" so if that's what your keyword looks like, you're in trouble! You'll have to pick a larger keyword (in search volume, not word/character count) such as "Antarctica DUI" or "Antarctica DUI attorney". The second problem was with "personalized results". This means that Google thinks you like a particular website so they show that website first. However, that isn't what the rest of the world is seeing. If you think this might be the case, you can search Google from a different computer (on a different network) or search Google through a proxy. Just search for 'website proxy' and enter "google.com" in the search box. When Google comes up, type your keyword. That's the real result.
If you have any questions, please post them in the comments and I'll answer each one individually!
Brandon Hopkins is a high performance link builder (also Fresno website design) who believes that second best isn't good enough when it comes to search results! If you need to rank #1 and want to make sure you're focusing on the right keywords, contact Brandon today!
Get more legal tips

Sign-up below to receive my bi-monthly email newsletter with free legal tips. All fields are required.




See also...
Comments