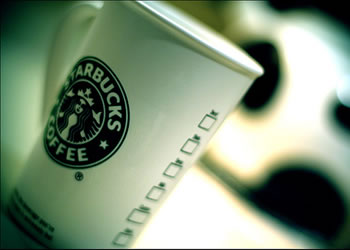 A good friend sent an interesting article to me today: Can Starbucks Really Offer 'Value' With a Straight Face?.
Yes. Starbucks can offer value.
A few days ago, I had a couple hours to kill while waiting for my client's case at traffic court. I debated between Starbucks and McDonald's.
I chose McDonald's, thinking that I would save a little money. I went in, ordered a medium fountain drink and a sausage & egg biscuit. Total cost: $4.16. I enjoyed my snack, and I did get a refill of Dr. Pepper before heading back to court. Great pit stop.
With Starbucks' new pairings, I could have spent $3.95 to get a latte and some coffee cake. Or I could've spent the same amount to get drip coffee and a hot breakfast sandwich. Add in sales tax, and the total cost is about the same as McDonald's.
To me that's a pretty good value. Of course I am a Starbucks fanatic. I won't deny that.
But I think that people who claim Starbucks can't offer value are missing the boat. While McDonald's may be cheap, it still isn't free. Plus, at Starbucks you're paying for the relaxing atmosphere. And you get 2 hours of free wifi by using your registered Starbucks card.
Next time I have a break between court, I'll probably be chilling at Starbucks with my latte, coffee cake, and wifi.
Where will your pit stop be?
Photo by el patojo
Get more legal tips

Sign-up below to receive my bi-monthly email newsletter with free legal tips. All fields are required.




See also...
Comments