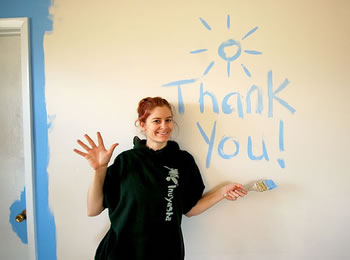 Do you ever have some time to kill when you don't have a computer with you? I've found the perfect activity!
Write your thank you notes!
I spend a lot of time at courthouses, waiting for my clients' cases. I can bring my laptop to some courthouses and work on it while I'm waiting. But that's not always possible. Besides, it's bulky, and I wouldn't have internet access.
Then I realized that I usually have something else I can do. I hand write several thank you notes every week. Everyone who refers a client to meet gets a personal thank you note, and I send them for many other reasons as well.
This task is beautiful in its simplicity. You just need a thank you note and a pen. I already have a pen when I'm at court. And a couple thank you notes don't add any noticeable weight or bulk to my papers. I can even carry a few stamps, seal up the notes, and drop them at a mail box on my way back from court.
Do you have any offline activities you do to stay productive when you're waiting somewhere?
Photo by J. Star
Get more legal tips

Sign-up below to receive my bi-monthly email newsletter with free legal tips. All fields are required.




See also...
Comments