I'm a fan of personalizing websites with images of the author. And images of people generally help us to connect better. We're drawn to people like us, and there's no way to do that quite like photographs.
But it's possible to have too much of a good thing. Too many faces on your website is overload. Here's an example:
A fellow attorney has created a website about the business of law. She's doing lots of high-profile marketing and probably making some good money with her various projects.
But nobody wants to see three pictures of her above the fold on a single web page.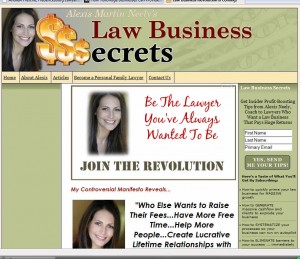 click to enlarge
In my humble opinion, it's face overload. And it's certainly over-use of those two almost-identical pictures.
Maybe her product is great, but I can't get over this excessive use of her pictures.
What do you think?
Can a person use too many pictures on their web page? Has this example gone overboard?
Get more legal tips

Sign-up below to receive my bi-monthly email newsletter with free legal tips. All fields are required.




See also...
Comments