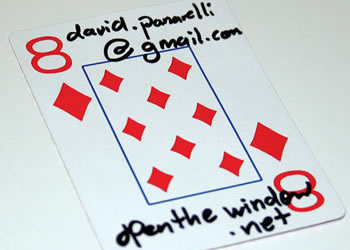 Every so often I come across a business card idea that I love. The above card is one of those.
Sure, this playing card business card is tacky. But it's memorable. And for some professions, it just might do the trick. With the right person behind the card, I think it would be fun to receive.
How could you make this neater? Print on the playing card with your inkjet printer. Or find a place where you could just buy a bunch of Aces, and then print your message in the vast blank space.
I get so many business cards at meetings and networking events. Most of them suck. Many people just need some creative business card ideas to put some life into their cards.
I'm not going to rush out and buy a deck of cards and a sharpie. This isn't the look I'm trying to portray with my law firm. My point here is that creativity can work.
Besides, in this impersonal world, a handwritten business card might actually be a welcome touch. It's probably easier to get cheap or free cards from VistaPrint: 30% to 60% OFF All VistaPrint Products
.
But it takes some time and attention to hand write your cards. You know how people like receiving and handwritten "thank you" note? The same might just apply to a business card. But be sure your handwriting is legible. 🙂
Writing this post just gave me another idea – autograph your business cards. That could be a cool way to give them a personal touch that our world lacks.
Here's the point: simple works. And simple can be creative.
Photo by mringlein
Get more legal tips

Sign-up below to receive my bi-monthly email newsletter with free legal tips. All fields are required.




See also...
Comments