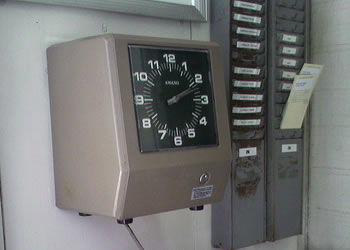 Hourly employees always want to know about their rights to a lunch break. Heck, lunch is important to me too!
But what about overtime laws? Employees definitely want to know about overtime labor laws as well. Is overtime required? Do salary employees get overtime? What are the regulations?
This article should answer your overtime questions.
Multiple laws for overtime
Overtime is one of those legal topics that is covered by a tangled web of laws. In short, the federal government has a basic overtime law that covers most hourly workers in the United States. There are also state overtime laws which might provide a higher standard in your case. In that situation, the higher standard applies.
Federal overtime law
The federal government requires overtime pay under the Fair Labor Standards Act (FLSA). If you are a covered, nonexempt employee, your employer must pay 1.5 times your regular pay for any hours over 40 that you work in a workweek.
You can get a quick overview of the federal overtime pay laws in Fact Sheet 23 (PDF) from the U.S. Department of Labor.
But what do all those bolded terms mean? That's the complicated part.
Non-covered employees
Some occupations and jobs are completely excluded from coverage of the FLSA. This means that the federal overtime laws don't apply.
To figure out if a particular job situation is excluded from federal overtime requirements, try the Department of Labor's elaws advisor. It will walk you through a series of questions to determine if the FLSA covers the job in question.
Exempt from overtime
Even if your job is generally covered by the Fair Labor Standards Act, you still might not be entitled to overtime pay. Covered employees are either exempt or nonexempt. If you are an exempt employee, you don't get overtime pay, according to the federal overtime laws.
Here are a few different occupations that are exempt. Even these listed jobs are subject to various tests to ensure that the employees do actually meet the overtime exemptions. Some exempt jobs include:
Executive
Administrative
Professional
Computer-related
Outside sales
Salary-based exemption
High-compensation exemption
Your workweek
The 40 hour requirement is based on your workweek. This doesn't mean a calendar week. A workweek for overtime pay purposes is a fixed and regularly recurring period of 168 hours (seven consecutive 24-hour periods).
Your employer can establish different workweeks for different groups of employees, or even single employees. So your workweek could be different from all of your coworkers.
But your employer can't average hours between weeks. That is strictly prohibited.
That hopefully explains the federal overtime regulations, but what about state overtime requirements?
State overtime laws
If your state has enacted overtime laws that are more stringent than the federal laws, your employer must follow the requirements set forth by your state. That provides more protection for you as an employee, but it certainly make it more complicated to understand overtime laws.
Here are some of the states that have more stringent overtime pay requirements. This is a broad overview, so I have deliberately omitted some of the nuances to these requirements.
Alaska – Overtime pay required for any hours over 8 in a single day.
California – Overtime pay required for any hours over 8 in a single day. For over 12 hours, pay must be double time. For over 48 hours in a workweek, pay must be double time.
Colorado – Overtime pay for any hours over 12 in a single day.
Kentucky – Overtime pay required for any 7th day worked in a single workweek.
Nevada – Overtime pay required for any hours over 8 in a single day, if employee makes less than 1.5 times the state's minimum wage.
Puerto Rico – Overtime pay required for any hours over 8 in a single day and on a statutory rest day. The overtime rate is double time (2 times the regular rate).
Virgin Islands – Overtime pay required for any hours over 8 in a single day, and on the 6th and 7th consecutive work days.
Any overtime questions?
My previous posts on labor laws spurred lots of great reader questions. Do you have questions about overtime labor laws that I didn't cover here? Post a comment!
Photo by mbtrama
Get more legal tips

Sign-up below to receive my bi-monthly email newsletter with free legal tips. All fields are required.




See also...
Comments