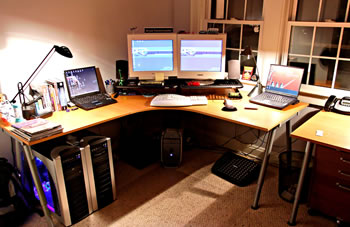 If you run a home based business (or just work out of your home sometimes), you should check out my new column over at Home Office Warrior. My good friend, Grant Griffiths of G2 Web Media, runs Home Office Warrior, and he came up with the idea of an "Ask Legal Andrew" weekly feature.
The first post is up now, and it answers your questions about home office zoning
If you have legal questions about home businesses, email them to Grant, and I'll cover them in a future installment of Ask Legal Andrew.
To make sure you don't miss an installment, be sure to subscribe to Home Office Warrior (RSS or email).
Photo by fensterbme
Get more legal tips

Sign-up below to receive my bi-monthly email newsletter with free legal tips. All fields are required.




See also...
Comments