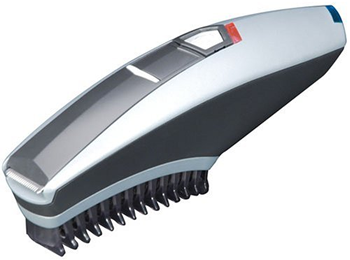 Buy for $34.99
I've been cutting my own hair for several years. I used to use a standard hair clipper with a #1 blade guard. When it broke last week, I set out to find new hair clippers.
A few Google searches brought up the Remington Shortcut
. This new little toy is designed just for men who want to buzz their own head. I'm now the proud owner of one, and I love it!
"You can't mess this up"
That's what the Remington Shortcut
package says. After using it once, I completely agree. You'll find the Shortcut easy, even if you've never cut a single hair before.
As you can see from the picture, the Shortcut is curved. Your head is curved. Cool, right?
Just hold the Shortcut like a hairbrush. Move it back and forth and around your head. It will cut your hair to the dialed length. That's all you have to do!
One piece of advice: Set the length wheel to a longer setting than you think you want. The Shortcut trims a little closer than regular clippers (a #1 on the Shortcut is shorter than a #1 on a Wahl clipper). You should test the actual length on your head before trimming too close.
Shortcut specifications
Two guards – The Remington Short Cut combines your clippers with all the blade guards. To select a hair length, you just dial a little knob on the handle. If you want to shave your head bald, you can use the secondary guard: the balding comb. With these guards and the dial knob, you can buzz your head anywhere from bald to 1/2″.
Bidirectional – These clippers are bidirectional. Traditional hair clippers only work in one direction, so the Shortcut is inherently easier to use.
Titanium blades – The Shortcut has Titanium blades that never need sharpening or even oiling. You can rinse the clippers under the faucet to clean out stray bits of hair. If you do that, you'll need to re-oil the blades with the included oil.
Rechargeable – If you've ever tried cutting your hair with corded clippers, you'll enjoy the cord-free Shortcut. The battery is good for 40 minutes fully-charged. But you'll only need 5 minutes to buzz your own head.
Even a monkey can do it
If you don't think the Remington Shortcut is easy, check out this video. Even a monkey can use the Shortcut!
Buy yours!
You can buy the Remington Shortcut
at Amazon for only $34.99
. I promise that it will be a good investment!
Get more legal tips

Sign-up below to receive my bi-monthly email newsletter with free legal tips. All fields are required.




See also...
Comments