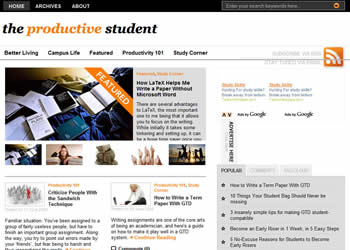 If you're a student looking to improve your productivity, read on!
A Legal Andrew reader just notified me about a slick blog for all the students out there. It's The Productive Student.
Honestly, when I received Arjun's email, I thought the blog would be just another boring, stale-template website. It's anything but that!
I think Arjun has hit the sweet spot of quality content and slick design. I'm certainly impressed!
Here are a few articles that caught my eye.
What are you waiting for? Visit The Productive Student or subscribe via RSS.
Get more legal tips

Sign-up below to receive my bi-monthly email newsletter with free legal tips. All fields are required.




See also...
Comments