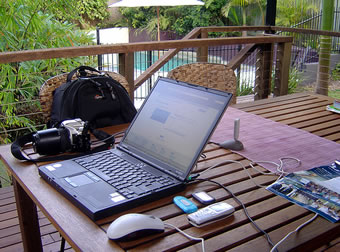 To you regular readers, I apologize for the lack of updates lately. I've been working hard on some other ventures.
Specifically, I am actively building a private law practice during my evenings and weekends. I have no plans to leave my full time job, but I definitely want to help out private clients as well.
Have you ever tried to setup a home office? Some things are easy, but some are a little more complicated. For the past few weeks, I've been dealing with some basic decisions. And now I offer them for your perusal.
Mail
Home – Do you give clients your home address? There are definitely some downsides there. A lot of people wouldn't want clients knowing exactly where they live. Can you imagine a criminal defense lawyer doing that? Scary!
Post office – What about a plain old post office box? UPS won't deliver there. And I don't have a post office that's very handy.
Remote – You could go with a service like Earth Class Mail. I seriously thought about that, but it presents two problems: no third-party deliveries (like UPS and FedEx), and they have no Fredericksburg address.
Storefront mail box – That leaves us with a retail box like the UPS Store. It's more costly than a standard post office box, but they can accept deliveries for you. And some UPS locations allow you to call in and ask if you have mail. That's a real time-saver.
Phone
Today, this isn't much of a problem. Phones are easy to handle.
Home line – You probably don't want clients calling you at midnight and waking up the kids. So giving out your main home number might not be wise.
VoIP – If you have a service like Vonage, you can easily add a new business line. That lets you route clients to your office area, not the kitchen.
Cell – In today's world, why not just give out your cell phone? Personally, if clients can't respect that it's my cell phone, I don't think I want them as a client anyway.
GrandCentral – This could be your best option. Give out your GrandCentral number, and then you can route calls wherever you want. I plan to send clients to voicemail during my day job, and let them go to my cell phone the rest of the time. Call me: (540) 318-5824.
Workspace
The options for your home office workspace are only limited by your home.
Closet – That's really all the space you need. Check out Chuck's explanation.
Spare room – If you have a room with some extra space, setup a desk in the corner. This could be your guest room, exercise room, or even the baby's room. It's best to not work in your bedroom, but if you have to, do it.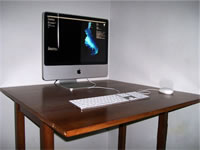 Comfy chair – My home office consists of a $200 club chair we bought at Big Lots. I have a laptop, so I don't really need a desk.
Be simple – Most importantly, I think a home office should be simple. That's one benefit to working at home. Keep it to the basics. And there's nothing more simple than a table and a computer, like Leo Babauta's setup (photo at right, explained at Unclutterer).
What are your home office solutions?
Top photo by RaeA
Get more legal tips

Sign-up below to receive my bi-monthly email newsletter with free legal tips. All fields are required.




See also...
Comments