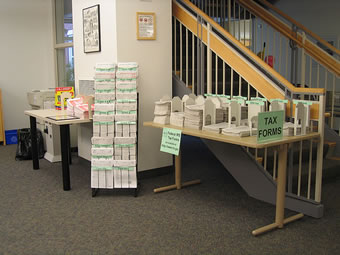 It's February 23, and my 2007 federal tax refund is already in the bank. Where's yours?
Tax refund options
I already wrote about tax deductions, so now it's time to look at the best way to get your tax refund.
With almost every American filing a tax return by April 15, there are lots of services and software to help get the job done. But which one should you use?
Paper forms – I've done this every year until now. Go to your local library or download the IRS tax forms from the internet. If you have a simple income situation, this is a solid free option to pursue.
Paid preparer – Businesses and high-income individuals will most likely pursue this option. Gather up your paperwork, go to your local accountant or tax preparer, and you'll be done in a little while.
Tax software – There are lots of great options here, but my favorite is Turbo Tax
. The basic version
is only $18.99, or you can get home and business
for $69.99.
The quickest refund
So how did I get my refund by February 23? Turbo Tax Online!
I filled out the online forms in my spare time over a few days. I e-filed my federal tax return on February 10. I selected the direct deposit refund option. And now I have my refund!
Just to be clear, it's really easy to get a super quick federal tax refund:
Fill out the Turbo Tax online forms
Select direct deposit for your refund
E-file your tax return with the IRS
I'm pretty pumped by these results. Darn cool! And I won't be scrambling to the post office on April 15. Will you?
Photo by herzogbr
Get more legal tips

Sign-up below to receive my bi-monthly email newsletter with free legal tips. All fields are required.




See also...
Comments