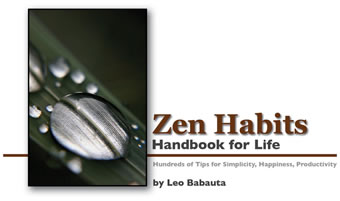 If you're looking to simplify your life, Leo Babauta has the resource you need:
The Zen Habits Handbook for Life
This is a brand new e-book that Leo released today! I was privileged enough to receive a review copy, and it's well worth the $6.95 he's asking for it.
The Handbook for Life reorganizes a ton of the great tips from Zen Habits and presents them in a slick PDF format. This makes it easy to give as a gift, read on a plane, or just have a handy set of great tips on your computer.
There are three key sections to the book: simplicity, productivity, and happiness. Each section has 7-8 great articles like "Declutter Your Mind" and "Clear Out Your Inbox." It's incredibly well-written, and a quick read.
What are you waiting for? Snag a copy of The Zen Habits Handbook for Life and support Leo's work. It's only $6.95!
If you enjoy Leo's writing, check out his great productivity e-book Zen to Done.
Get more legal tips

Sign-up below to receive my bi-monthly email newsletter with free legal tips. All fields are required.




See also...
Comments