Where there's an attorney, you'll probably find crazy advertising. Florida has regulated it heavily, and most areas regularly deal with the same issues.
Attorneys can't portray themselves offering assistance to aliens, and they can't have a phone number like 1-800-PIT-BULL.
But lawyers still have some crazy ads and signs!!
Pictures
Quick legal help and a cup of coffee

brookenovak
Would you seriously consider hiring these guys?

bhartzer
Talk about specializing!

Carol Browne
All the relief you need

kusine
Aggressive and compassionate

smussyolay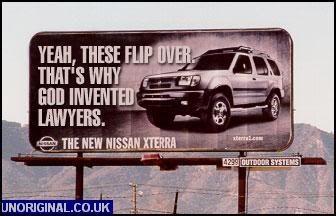 Videos
Pictures offsite
I'm trying to respect people's copyright wishes. These pictures are pretty funny too, but you'll have to click the links to view them.
Do you have any favorite lawyer ads?
Get more legal tips

Sign-up below to receive my bi-monthly email newsletter with free legal tips. All fields are required.




See also...
Comments