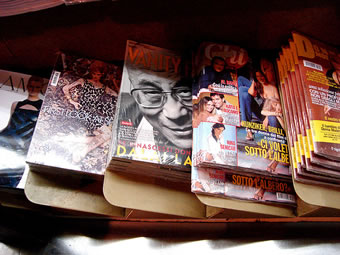 Quick! Count the number of magazines that clutter your house! If it's more than a couple dozen, you need help. Here's a few handy tips to unclutter your magazines.
1. Don't subscribe. The easiest option is always to keep junk out of your house. If you don't subscribe to magazines, you don't have to worry about any mess from them.
2. Read online. There are lots of magazines online. Even the most basic magazines have at least a few articles online. This gives you all the info without the mess.
3. Visit the stacks. Most libraries have a great selection of magazines. If you don't have a library card, go get one.
4. Swap them. Do you have friends that enjoy magazines as well? They'd probably be willing to do a magazine exchange. I'm going to start swapping Fast Company for Wired.
5. Recycle. Did you know that only about 20% of magazines are currently recycled? But you can easily recycle them with newspapers. Clear your clutter and help the planet!
6. Snip and scan. When you find articles you really want to save, clip them out. Drop them in a scanner (like the ScanSnap), and you'll have them forever. 1's and 0's take up a lot less space.
7. Buy the DVDs. Lots of magazines sell old issues on CD or DVD. You can get things like MAD Magazine
and National Geographic
in this format.
8. Get cases. If you're still clinging to the paper at this point, at least organize them. Invest in some quality magazine cases
and they won't be slipping all over your bookshelves.
How do you deal with magazines?
Photo by smannion
Get more legal tips

Sign-up below to receive my bi-monthly email newsletter with free legal tips. All fields are required.




See also...
Comments