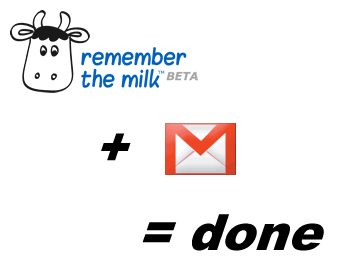 Is your email inbox overflowing? I'll bet that's not helping you get things done.
There's hope for you: Gmail + Remember the Milk.
Link directly to emails
Productivity ninjas agree that you should archive email, not leave it in your inbox. But what about emails that have critical information in them? You probably get emails from your boss, asking you to do things. Nobody wants to lose those!
Gmail has a little known feature that lets you link directly to any email. Just open an email and you can bookmark it with your browser or even del.icio.us.
Now you can archive the email and return to it any time. But how do you keep track of those task-based emails?
Add URLs to tasks
My favorite to-do list, Remember the Milk, has a cool feature that works hand-in-hand with Gmail's links. You can add a URL to any task.
To do this, just click on the URL field in the task details pane. Add the URL you need, and it'll be saved on your task list. And there's a handy shortcut key: u.
When you need the info for a task, just click the URL field, and you'll go straight to the webpage. Handy!
New email task flow
Next time you get an email task from someone, try this:
Open the email and read it
Copy the email's URL
Archive the email in Gmail
Create a new task in Remember the Milk
Add the email's URL to the task
Now you've cleared your inbox and put the task on your to-do list, where it belongs. When you get ready to do the task, the critical email is a click away. Can it get any easier?
Do you have a tip to keep track of key tasks and emails?
Get more legal tips

Sign-up below to receive my bi-monthly email newsletter with free legal tips. All fields are required.




See also...
Comments