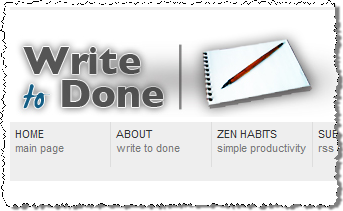 Do you want to be a better writer? You need to subscribe to Leo Babauta's new blog, Write to Done.
You may know Leo from Zen Habits, his wildly-popular productivity blog. Didn't you hear that it's the best overall blog for 2007?
The first post went up on January 9. And today Leo has 3,066 subscribers. Are you one of them?
Write to Done is already a great resource for writers. And it will only get better with time. Leo is promising two "unmissable articles on writing" every week. He's sure to deliver just that!
Leo's latest article explains how reading improves your writing. And he's written on key editing skills. Since Leo is all about habits, there's already a post on creating the writing habit. And he's got me thinking about writing a short story.
If you can't tell already, Leo is one of my role models. The guy has 6 kids, he's now a self-employed full-time blogger, and he's got a book deal. The man is getting it done!
Get more legal tips

Sign-up below to receive my bi-monthly email newsletter with free legal tips. All fields are required.




See also...
Comments