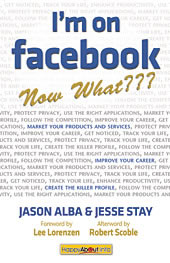 I'll bet you're on Facebook. But now what do you do? How do you leverage this tool for your career, business, and social life?
I'm on Facebook – Now What? will teach you!
After Jason Alba's popular LinkedIn book, he has teamed up with Jesse Stay to tackle Facebook.
If you're looking for a thorough, but readable, guide to Facebook, you need to read this book. I'm on Facebook – Now What? gives you the keys to making the most of this powerful social network.
Make a good impression
One of my favorite takeaways from this book was about making good impressions. Jason and Jesse explain this point well:
Keep in mind that your profile may be the first impression someone gets of you. Having a bunch of Vampires and Werewolves, or Ninjas and Pirates on your profile page may do more harm than good.
As you can see, your public image is more than just keeping your profile G-rated. You also shouldn't have it cluttered with insane applications.
Different uses for everyone
In case you're thinking the book is geared toward a single type of person, I'm here to tell you otherwise. An entire chapter is devoted to explaining how different types of users can make the most out of Facebook.
Whether you're a student, employee, business owner, or parent, there are still great insights in this book for you.
What about applications?
Since Jesse builds Facebook applications, you'll find plenty of application info in I'm on Facebook – Now What?
I even found out about a couple cool apps that I'm going to install: PayPal and HobNob! They can both be useful in my Facebook efforts, both business and social.
Get yourself a copy
If you're interested in learning more about Facebook, you should buy a copy of this book. It's available now. Heck, the ebook version is only $11.95!
Get more legal tips

Sign-up below to receive my bi-monthly email newsletter with free legal tips. All fields are required.




See also...
Comments