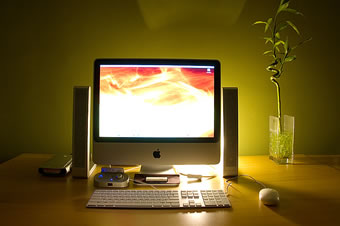 Photo by dziner
Whether you're working in a mega law firm or a tiny non-profit office, you need to have a positive image among your coworkers. If you're known as the lazy butt or the slob, your career won't go far. But if you follow these tips, your public image will shine.
Clean your desk – How can you be productive with mounds of papers all over your desk? Your coworkers will wonder the same thing. And if they give you something important, will it get lost in the shuffle? Keeping a tidy desk doesn't ensure that you're productive, but it will remove the stigma that you're a slob.
Fuel the car – Do you ever use the company car? Have you ever returned it with little gas left in the tank? To me, that's an inconsiderate gesture, not considering the person who needs the car next. My personal goal is to always return the company car with more gas in the tank than when I picked it up.
Respect the kitchen – You don't want to be the guy who leaves a mess in the company kitchen. The cleaning staff will surely hate you, and your coworkers will probably become upset as well. Nobody likes using a messy kitchen, and everyone will know if you're the sloppy one!
Be budget-minded – Every company has to watch their budget. If you constantly ask for expensive things or needlessly spend money, people will know. Your coworkers won't respect a spendthrift, since it reflects poorly on the entire organization. Just because you can order it, that doesn't mean you should buy it on the company dime.
Dress well – Are you respecting the company's dress code? Perhaps more importantly, are you dressing nicely in accordance with the dress code? Your attire and overall appearance are huge factors in your office image. If you dress sloppily, people will think you do sloppy work. Even if your job is fairly secure, you should still dress for success.
Listen to voice mail – Even you hate it, you still can't just ignore your voice mail. What if your boss left one for you? Ignoring voice mail tells people that you're too important to care about their message. Maybe you are important, but you don't want to be conceited towards others.
Be easy to contact – No, you don't have to be glued to a Blackberry. But you need a way for people to reach you. Make it clear which contact method you prefer, and people will respect that, for the most part. But if coworkers can't get a message to you at all, they're certainly not going to be happy.
Bribe them – If you try all of this and your coworkers still don't care much for you, give them presents! I say that partially in jest, but maybe you should try inviting some of them to lunch (on you!). Or simply buy somebody a cup of coffee. Take someone out for a beer. A simple gesture like this could help to lower their defenses and get you on their good side.
Get more legal tips

Sign-up below to receive my bi-monthly email newsletter with free legal tips. All fields are required.




See also...
Comments