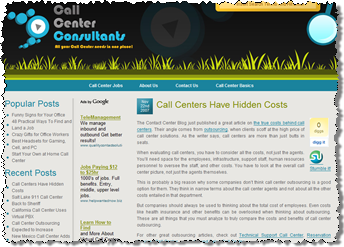 I want to apologize to all of you awesome readers. I haven't written much lately. But I've been busy.
Brandon Hopkins and I have been working on a joint venture: Call Center Consultant. We're taking a PR 0 domain and trying to turn it into a money-maker in one month.
We started out with a few goals, so we could determine if our work was successful. By November 30, we wanted to have 2,000 unique visitors, 150 articles online, and $100 in revenue.
It's now November 22, and we're having some pretty good success:
We have 89 posts online, and I think we'll make our target of 150. They're all pretty focused to selected keywords, but not spammy.
We've had 17,535 unique visitors. We're getting good search traffic now, but a lot of those visitors are from some hot StumbleUpon posts we've done.
Our revenue is doing well, but a little shy of our goal. I think we're at about $35 right now. Hopefully some of our affiliate programs will start converting.
We rank #5 on Google for call center consultant. I'm astounded by that!
I'll probably do another post on Call Center Consultant in early December. At that point, we'll know exactly how we did with our experiment. And we'll decide if we should continue this blog or let it sit and try a new one.
To keep up on further updates for this project, I'd suggest subscribing to Brandon's feed. His blog is about making money online, so he's written several posts about what we're doing.
Get more legal tips

Sign-up below to receive my bi-monthly email newsletter with free legal tips. All fields are required.




See also...
Comments