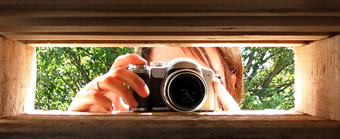 You have a camera. But do you know your rights when it comes to public photography? You'll learn them here.
Public photography is wide open
That's the general rule. When you're on public property (a street, sidewalk, city park, etc) you can take pictures of what you see. This means that you can also photograph private property as long as you're not trespassing to get the shot.
Unfortunately, life is never that simple. There are a couple exceptions to the rule and other details you need to know.
Does the photo subject expect privacy?
Even on public property, you can't photograph somebody who has a "reasonable expectation of privacy." Basically, that means you can't snap shots of people in the bathroom, a dressing room, or similar places. Ask yourself: "Would the average person expect privacy?" If so, don't take a photo.
Along the same lines, don't sneak photographs of people from bizarre angles. In essence, you can't go around taking "up skirt" photographs. Even if you're on the public sidewalk.
Is it a question of national security?
It was news to me, but military bases and nuclear facilities can restrict photographs – even from the outside area. Even if you're not trespassing onto government land, taking pictures of these installations could be illegal.
Don't even try. We're not talking misdemeanor illegal. You might be shipped off and never seen again. Yep, crazy illegal!
Stand your ground, politely
If your public photo opp passed these three stages, you're probably safe to shoot some pictures. Since there are millions of scenarios in which you could be photographing, there's no way anyone can tell you for sure, ahead of time.
But if someone does confront you about your photography, you can probably win by standing your ground. Bert P. Krages II has some great questions for you to ask, if confronted. Remember to be polite!
What is the person's name?
Who is their employer?
Are you free to leave? If not, how do they intend to stop you if you decide to leave? What legal basis do they assert for the detention?
Likewise, if they demand your film, what legal basis do they assert for the confiscation?
I'm not encouraging you to break the law, but I also hate seeing people cower when someone confiscates their camera. Private parties cannot take your personal property without a court order. And unless a police officer is arresting you, he cannot take your property either.
Other resources
The Photographer's Right – This is Bert's printable guide on U.S. public photography law. It's very thorough, but still readable. I'd say it's a must-have for any budding photographer.
Photo Permit – A great site on photography law, "about keeping photographers out of trouble, and supporting them when trouble looms."
The Reporters Committee for Freedom of the Press – Their name says it all. If you're a journalist (or blogger?), these guys are your backup.
Any questions?
I'm sure that whirlwind tour of public photo law might have raised some questions. I'll do my best to tackle them. Just post a comment, and we'll talk!
Get more legal tips

Sign-up below to receive my bi-monthly email newsletter with free legal tips. All fields are required.




See also...
Comments