Statistics are a key part of any type of venture. You need to know what's happening, how your target demographic is responding, and what areas you can improve. The same applies to blogging.
I'm a stats addict
I've had several readers ask what statistics I use here at Legal Andrew. The short answer is "any and all." Well, I've tried many solutions. But now I've finally found three I love.
I've been using Google Analytics since I got serious about blogging. It provides a great overview of everything, along with awesome detail to help feed my addiction.
I was a Performancing Metrics user, but when they closed down, I switched to FeedBurner's StandardStats package. This is where I get my daily stats fix, since it provides a great glimpse at traffic, including the main site and the RSS feed.
Finally, 103bees has a really neat program to help analyze your keywords, search engine traffic, etc. I don't check this one often, but it does provide some interesting insights.
You're a visitor!
I just pulled up an Analytics graph that shows blog visitors from August 1 ('06) through today (February 13, '07). Here's the graph, with some key traffic spikes marked:
This graph shows that I've been slowly (but steadily) gaining visitors since August. The spikes you see are largely due to group writing projects. However, the 347 number is from my edition of Blawg Review!
What does this data tell me?
I'm doing something right. Increased visitors means people don't hate my blog. 🙂
Playing nice with others helps! Like I just mentioned, most of my big traffic days came from a group project or other community effort. I can't do this alone.
I need to work harder. I was seeing large traffic increases in the first few months of serious blogging. But since December, readership has increased only a little. Thus, I've got to push myself and see how I can expand the scope.
We're global
That brings me to the next bit of data I'd like to share with you. As an American, I am very prone to feeling like we are the only continent on the globe. I ignore other languages and cultures, and I generally cater to U.S. readers. But check out this geographic location graph: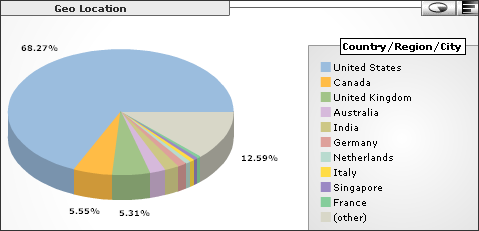 As you can see, only about 68% of my readers are actually in the United States. Taking out Canada and Great Britain as well, that leaves 20% of readers who are in other countries around the globe.
This is great news, but it also tells me that I'm neglecting a huge percentage of you readers. I don't make any effort to connect with you. I'm not a global blogger.
Thus, I'm going to work in the coming weeks to change that. I'll install a page translator. I'm going to start reading some blogs from other countries (translated into English, since I'm a typical American and can only read that).
I encourage you readers from around the globe to stop by and interact with us. Please provide any thoughts you have on how I can be less insulated and reach out to you more. You can leave a comment or drop me a line.
Get more legal tips

Sign-up below to receive my bi-monthly email newsletter with free legal tips. All fields are required.




See also...
Comments