How many times have you typed a misspelled word into Lexis or Westlaw? Do either of these companies refund search charges for typos or suggest the correct spelling? I think not. Enter SpellBound.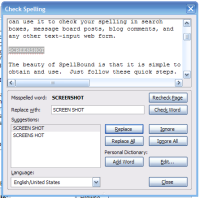 What is it?
SpellBound allows you to quickly and easily spell check any entry you make into a web form. This means that you will no longer misspell words in Lexis or Westlaw. Moreover, since SpellBound works with any web form, you can use it to check your spelling in search boxes, message board posts, blog comments, and any other text-input web form.
The beauty of SpellBound is that it is simple to obtain and use. Just follow these quick steps.
1. Make sure you have Firefox
In order to use this simple tool, you must first have Firefox, an awesome, FREE web browser. You can quickly get it by clicking on the image to the right.
2. Download SpellBound
SpellBound itself requires that you install two Firefox extensions. The first one is the actual SpellBound program. The second one is a library required to run the program. You can get a copy of both of these (for free) from Brian Cantoni's site. Once these are installed, you are almost ready to be misspelling free!
3. Download a dictionary
A spell checker is not much good without a dictionary, so go here to install one. Many languages are supported. You can quickly get a U.S. English dictionary here.
4. Don't worry, be SpellBound
That's all there is to it! You will have to restart Firefox to finish the process, but once you open the browser again, you can immediately begin using SpellBound. Try it by typing something into a web text box; you can then right click and select "Check Spelling". The SpellBound box will popup, allowing you to correct any misspelled words.
Now you can easily check your spelling anywhere on the internet. You will not incur Lexis and Westlaw searches for misspelled words, and you can present a polished, professional image in forums and blogs. Happy spelling!
If you have any questions or concerns about SpellBound (installation, use, etc), please let me know. Feel free to post a comment or drop me a line.
[tags]legal andrew, firefox, extension, spelling, lexis, lexisnexis, lexis nexis, westlaw[/tags]
Get more legal tips

Sign-up below to receive my bi-monthly email newsletter with free legal tips. All fields are required.




See also...
Comments