I have written before about using multiple monitors to increase productivity. However, until recently, this boost in productivity was available only to people who actually had two monitors. No longer is that the case.
Simple Program Imitates Multiple Monitors
Thanks to an awesome programmer, a simple program, GridMove, now exists that imitates the functionality of multiple monitors. Basically, the program overlays an invisible grid on your monitor. You can then maximize any open window to a single sector of your screen.
The program comes with several different default grids built in, such as 2-side-by-side, 2-top-and-bottom, and (my favorite) 4-panels, shown below. Plus, you can construct your own grid, if you desire something different.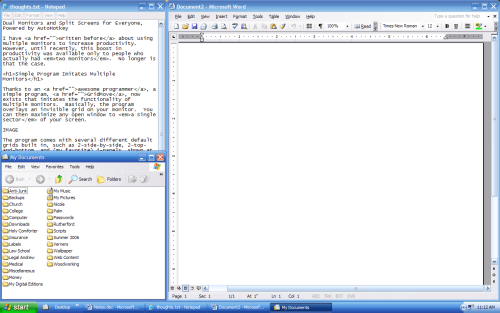 Moving windows to and from different sectors of your screen is simple. You can either use your mouse to drag and drop the windows to different sectors (the grid momentarily shows when you do this), or you can use hotkeys to automatically move and size the active window with a quick keypress.
Productivity Boost
The productivity gains for lawyers and law students should be obvious, especially if you have a large monitor. Primarily, this allows you to easily have two or more windows visible at the same time on your screen. This could be really useful for doing research on Lexis or Westlaw, while at the same time working on your wordprocessing document or note file. In this instance, the 2-side-by-side view can work wonders.
Technical Jargon
If you are not technically inclined, feel free to skip over this. For the rest, I just wanted to point out the basis for this program: AutoHotkey. This program is a great example of the wonderful things a determined person can do with such a powerful scripting program.
If you anyone has any other tips to increase productivity by manipulating your screen, let us know. Please post a comment or drop me a line.
[tags]legal andrew, monitor, screen, autohotkey[/tags]
Get more legal tips

Sign-up below to receive my bi-monthly email newsletter with free legal tips. All fields are required.




See also...
Comments