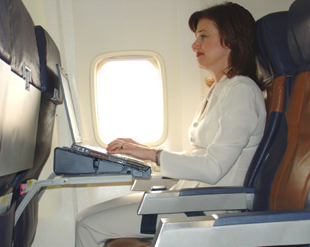 Are you of the 92% of business travelers who carry your laptop onto airplanes? Have you found yourself trying to review a document or write a brief or contract, but end up with back pain and strained eyes? It looks like the Keynamics laptop stand might be for you.
The stand is made to fold up and fit inside your carry-on or briefcase, so it is as portable as you. Simply unfold it, place your laptop on top, and then lean back to work. For only $19.99, it might be worth a try.
At the very least, it should reduce back and eye strain while working on long flights. Hopefully, it can even increase your productivity.
Also of note, Keynamics has several different stands designed for use at your desk as well. These could be worth a look, if you use your laptop while in the office.
[tags]legal andrew, laptop stand[/tags]
Get more legal tips

Sign-up below to receive my bi-monthly email newsletter with free legal tips. All fields are required.




See also...
Comments