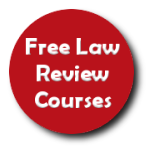 Update (Oct. 10) – This contest is now over. To win a free Torts course, check out the current contest: FREE Law Review Course – Tort Worries?.
Being a first year law student is definitely intimidating. One exam determines your entire grade for a class. And for classes like Contracts, that's not a happy thought.
But Law Study Systems has you covered. They have online review courses for Contracts, Torts, and Criminal Law. These are the perfect supplement to your studies.
You can win a free license to their Contracts course (a $30 value!) by answering this question with a comment below:
In your Contracts studies, what topic seems the hardest to understand or makes you the most nervous?
I will pick a random comment from the post, and notify that person that he/she has won. The winner will receive instructions to register for the free Contracts Essentials course. Does it get easier than that? This mini-contest will run for
If you have a blog and would like to win a free license for all three Essentials courses, learn how at the main Law Study Systems contest post.
Stay tuned to Legal Andrew for more giveaways from Law Study Systems. We'll be giving away free licenses to their other courses in upcoming posts! Click here to subscribe, so you won't miss the next giveaway.
Check out other great contests at the Contest Blogger forum!
Get more legal tips

Sign-up below to receive my bi-monthly email newsletter with free legal tips. All fields are required.




See also...
Comments