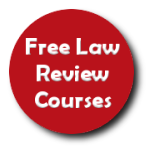 Are you nervous about your first law school exams? Are Contracts, Criminal Law, and Torts getting you down? Have no fear. The great people at Law Study Systems are here to help!
Through an exclusive arrangement with Legal Andrew, Law Study Systems is giving away free licenses to its premium law school review courses. These courses ordinarily cost $30 each ($90 for all three), but you'll be able to get a license to each one for free!
To win your free license to all three of Law Study Systems' premium courses, follow these easy steps:
Go to the course main page and register for the free Advisor Courses.
Review one of the Advisor Courses on your blog.
Your review must be meaningful – not simply a sentence.

What do you like about the courses? What do you not like? Do you think they will be helpful with your studies?
You must include at least two links in your review: one to www.LawStudySystems.com and one to this contest post.

Notify me of your review via email, just in case I miss your post.
As long as your review meets the criteria, Law Study Systems will enroll you for free in the Essentials Courses (contracts, criminal law, and torts).
The contest will be open for 30 days. It ends at midnight (EDT) on October 18, 2007.
If you have any questions about the contest, please don't hesitate to contact me or drop a comment below. If you have any questions about Law Study Systems, you can email them or call them at 773.871.2798.
If you don't have a blog and would like to win a free Law Study Systems license, check out these other contests. You can win just by answering a question!
Check out other cool contests at Contest Blogger or visit their brand new forum!
Get more legal tips

Sign-up below to receive my bi-monthly email newsletter with free legal tips. All fields are required.




See also...
Comments