I got a cake in the mail today. Life doesn't get more awesome than that.
It's from my awesome virtual receptionist: Ruby.
When I first signed up with Ruby, they sent me a cool mug. When I went back to them, I actually wondered if I'd get another mug.

Seriously, the mugs are cool.
But they outdid themselves by sending a cake. Not just a plain cake with a computer-printed card inside. It's a custom cake with a handwritten Ruby note card. Impressive.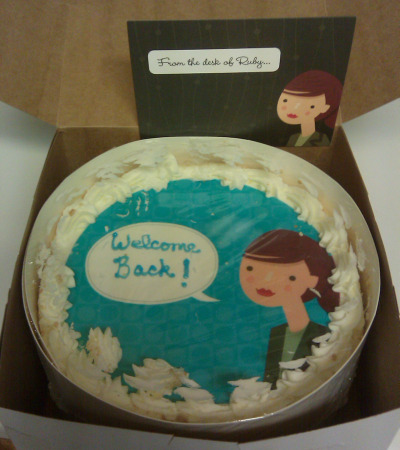 Here's the coolest part: They're in Oregon. I'm in Virginia. I suppose cakes routinely fly around the country these days, but this country boy is amazed.
We can all learn some client relations lessons from Ruby. They know their stuff. How would your clients respond if you sent them a cake? We certainly can't do that for every client, but it could be a great thank you for a new client who hired you for a big project.
If Ruby treats their clients this well, you can sure bet they'll treat your clients right. To try them out, sign up for their 21-day money back guarantee using this form.
Note: I'm a happy Ruby customer. I recommend them based on the incredible value they bring to my business. If you sign up using this form (or just tell them that Andrew Flusche referred you), I receive a small payment from Ruby. I guarantee that I've paid them much more than they've paid me. They're worth every penny.
Get more legal tips

Sign-up below to receive my bi-monthly email newsletter with free legal tips. All fields are required.




See also...
Comments