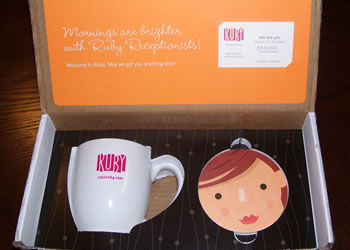 (Update – 3-4-10 – When I originally wrote this post almost a year ago, the free trial below was 30 days. It has now changed to 14 days, so I've updated the post accordingly.)
I run my own law firm with no staff. It's hard to answer the phone, go to court, and work on client matters.
To solve this problem, I hired a great virtual receptionist service: Ruby Receptionist.
Ruby has been answering my phone for a week now. I'm thrilled!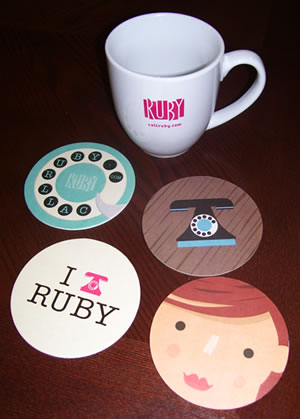 They answer promptly and professionally, saying whatever custom greeting I want. Then they connect callers to me wherever I am (office line, cell phone, Skype, vacation house, whatever!).
I've been extremely pleased to use this great virtual receptionist. And then today I received this gift in the mail! Ruby really knows how to give awesome customer service and keep their clients happy.
Admittedly, I have only been using Ruby for a short time. But I think their live virtual receptionist service is proving to be a vital part of my practice. Their great service will help me to provide great service to clients.
Maybe I'm just easy to please, but Ruby definitely impressed me. My one complaint is that their voicemail and receptionist message emails use Pacific Time (Ruby is in Oregon) instead of my local time. But that's a minor issue that they might fix in the future.
If you want to try Ruby free for 14 days, fill out this form. You'll get a 14-day trial with no obligation whatsoever. This offer doesn't expire, but you definitely should give Ruby a try soon!
Update – 4-22-09 – I've now been with Ruby for 5 weeks. I'm an official paying customer, and I couldn't be happier!
Update – 3-4-10 – I just found out that the Ruby trial is now 14 days, instead of 30. It's still free, and there's no obligation at all if you cancel before the 14 days are up.
Note: I am a happy Ruby customer. I recommend them based on the incredible value they bring to my business. If you sign up using this form (or just tell them that Andrew Flusche referred you), I receive a small payment from Ruby. I guarantee that I've paid them much more than they've paid me. They're worth every penny.
Get more legal tips

Sign-up below to receive my bi-monthly email newsletter with free legal tips. All fields are required.




See also...
Comments