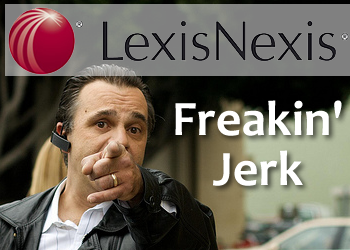 Update – Sept. 4 – Lexis posted a comment below.
It's funny how some big companies just don't understand the internet. And it's infuriating when they breach simple rules of netiquette. LexisNexis wins the Biggest Jerk Award today.
I linked to Lexis
I wrote an article (Lunch, Break, and Hour Laws) over a year ago that linked to one of Lexis' products. Ironically, that article is the most popular one on my entire site.
I provided a link to Lexis' lawyer directory, since I thought it added some value to the post. And based on the number of visitors that post receives, I'm sure Lexis has received some traffic from me. I've also linked to their sites in other articles throughout my two years of running Legal Andrew.
Lexis complained
A few days ago, I received the following email from a LexisNexis "Content Specialist." I have added emphasis and removed their links.
Hello,

LexisNexis website ***removed*** has recently upgraded its websites and would you to update/add our links. For generations students have relied on Martindale-Hubbell as the authoritative resource for information on the worldwide legal profession. With a history spanning 140 years, the Martindale-Hubbell Legal Network hopes to provide authoritative legal resources to you.

Please update our links on the following page:
http://www.legalandrew.com/2007/06/07/lunch-break-and-hour-laws-you-should-know/

Please use the following links and text:

Law Firm directory from Martindale

The phrase "Law Firm" should be the clickable link to ***removed***. The following sentence "directory from Martindale" should be plain text (not the clickable link). ("Law Firm" should be the hyperlink)

Also LexisNexis has re-launched its new website for Lawyers.com and would like you to add our links on the page listed above.

Please use the following links and text:

***truncated here***
As you can see, they're asking for me to change the links that I have given them to use the specific anchor text they're targeting. And they want me to add links to their other sites.
Let me think about that… HECK NO!
What self-respecting website owner would EVER ask someone to do this? "Hey, thanks for the link. But please use the proper anchor text."
I tried to educate Lexis
What kind of blogger would I be, if I didn't help Lexis understand their error?
I responded to Lexis' email:
I understand that you are just doing your job, but I am insulted by this email. I hope you can pass that along to your supervisor.

I included Martindale in an article I wrote over a year ago. I essentially gave LexisNexis free publicity, traffic, and search engine "juice."

And now I receive this email from you guys that I need to update that link to reflect your targeted anchor text. AND I should add your other links as well. That is not the way to do business online and create goodwill among internet publishers.

I would be happy to have LexisNexis advertise on www.LegalAndrew.com. I would even consider a barter agreement, where LexisNexis could sponsor my blog, and I could receive free research access. Feel free to call or email to discuss this idea.
I sent that on August 13. As of this article's publication (August 30), I haven't heard anything back.
That must mean that Lexis doesn't care about its completely rude behavior. They don't want to be a member of the online community. They just want to dominate the search engines. Jerks.
No more links from me
I have now removed ALL Lexis links from my websites. It's the least they deserve. I encourage you do to the same.
Yes, I'm mad. Maybe I'm petty, but that's ok.
Will Lexis care?
When I wrote about a Fastcase problem, the CEO called me. He worked things out pretty well. Fastcase obviously cares about its users and its online image.
Now I'm curious if anyone from Lexis will contact me about this post. I'll certainly let you know if they do.
Am I wrong here? Full of shit? Let me know.
Update – Sept. 4 – Lexis posted a comment below.
Photo background above by Jeremy Brooks
Get more legal tips

Sign-up below to receive my bi-monthly email newsletter with free legal tips. All fields are required.




See also...
Comments