How long have you fiddled with Technorati on your blog? You claim your blog, get the spiffy widget running, build up a fan base, tag all your posts, etc. What do you get in return?
NOTHING
Yes, I'm exaggerating a little. But let me make my point. Technorati just isn't worth the trouble.
Aside from initial setup, Technorati has other problems. For months now, Technorati has had problems with blogs being "flagged for review." Just look at the threads in their support forums where blogs aren't being updated properly.
And submitting a support ticket gets no response. Technorati doesn't seem to care about their users. It really is a sad excuse for a user-oriented service.
Stats speak
I think Legal Andrew is a decent example of a mid-tier blog. So my stats can illustrate what we're getting back from Technorati.
This is a graph of referrals to Legal Andrew from August 1, 2006 to June 3, 2007. As you can see from the last line (red arrow), Technorati refers less than 1% of my traffic!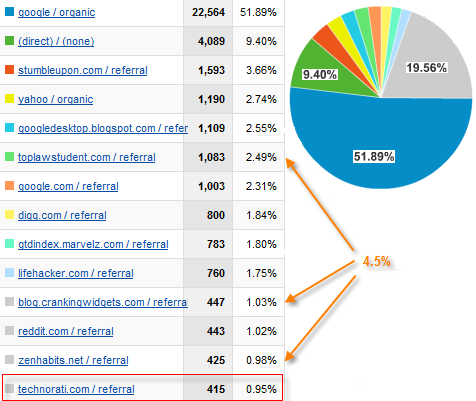 Honestly, I can't see why us bloggers care about Technorati at all. Maybe you guys see more value in it, but I really don't.
Friends are great!
To end on a positive note, I want to point out the great importance of making real connections in the blogosphere: friends.
As you can see from this chart, my top 14 referrers include several friends, which amount to 4.5% of total referrals. After going through my top 50 referrers, I found that 7% of my traffic comes from friends.
Should I spend time screwing around with Technorati, or should I try to make another friend?
[tags]technorati, friends, google analytics, statistics[/tags]
Get more legal tips

Sign-up below to receive my bi-monthly email newsletter with free legal tips. All fields are required.




See also...
Comments