You read that right. There's a brand new face on Legal Andrew: mine! If you're reading this in an RSS reader, please visit the site to check out the new look. I've included a screen shot below.
Here are some improvements that I'm excited to announce:
Better sidebar – I'm hoping the 3-column design will make information more accessible to everyone. I felt bad putting important stuff way down in the footer.
Improved comments – These are much easier to read now. The comments feature alternating styles plus a special highlighted style for comments left by yours truly.
Avatars – Comments now feature MyBlogLog avatars. It should check for a Gravatar, if MyBlogLog comes up empty. Otherwise, you'll be faceless.
More personal – Since this is my personal blog, branding is important. What better way to promote myself than with my face? Thanks to my wife's photography skills, I now grace the presence of every page. 🙂
Orange – This is one of my favorite colors, so I think the theme really screams "me."
Share This – You'll notice the standard "Share This" icon and link with every post. You can post any article to a number of sharing sites, as well as send it via email to anyone. I think this is a really handy tool, courtesy of Alex King.
The theme is called Sosuechtig Black. It was actually designed by a Dutch group, so it was a bit tricky to convert some things to English and get everything working. So if you see a random Dutch word somewhere, please let me know.
Alister Cameron inspired my design change with his post about the importance of blog design. He also inspired the face idea; I hope mine is done differently enough to not be merely copying him. I found the theme through a link he posted.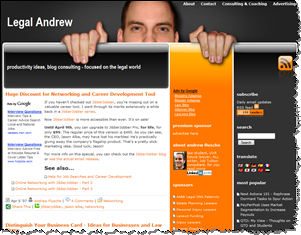 What do you think?
I'm pretty pumped about the new design. But you're what matters. Do you like it? Should I change something? See an error? Please come provide your feedback via a comment, or you can drop me a line.
Get more legal tips

Sign-up below to receive my bi-monthly email newsletter with free legal tips. All fields are required.




See also...
Comments