Now that everyone is excited about the concept of improving your productivity by using your mouse less, here is your first set of concrete tips to help you begin killing your mouse. Take a few minutes to read this quick post, study its contents, and implement it. I guarantee that your career will thank you.
Keyboard Power
The first step to killing your mouse is to begin realizing the potential of your keyboard. While you may know of several of these tips, perhaps a few of them will be new to you. Virtually every program has keyboard shortcuts that you can utilize to increase your productivity. The only thing you have to do is to learn them. Fortunately, there are many shortcuts that are common across different programs, so the learning curve is considerably decreased.
Here are just a few examples.
Microsoft Word:
Ctrl + n – New
Ctrl + o – Open
Ctrl + p – Print
Ctrl + s – Save
Firefox:
Ctrl + d – Bookmark
Ctrl + h – History
Ctrl + j – Downloads
Ctrl + p – Print
Alt + Left – Back
Alt + Right – Forward
My Gift to You
To help you learn some of these basic keyboard shortcuts even quicker, I have put together a simple list. You can download the PDF, print it out, cut out the list, and tape it to the side of your monitor. This way you can have a quick reference available whenever you are at your computer.
Personal Challenge
Between now and my next post in the "Kill Your Mouse" series, I am challenging you to learn & use as many of these shortcuts as you can. If you want to go the extra step, you can even explore your current programs and figure out other keyboard shortcuts.
Finally, if you want to go the extra extra step you can start learning how to customize your keyboard shortcuts. For example, in Microsoft Word, you can go to Tools, Customize, and then click the Keyboard button at the bottom of the window. You can then custom map your keyboard shortcuts through a window like this: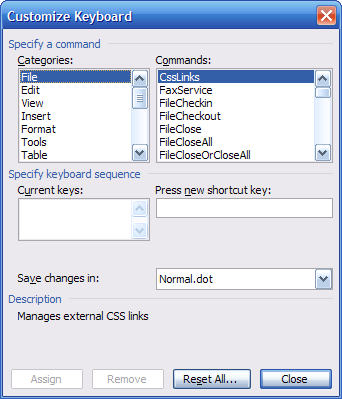 That's it for now. Good luck with your keyboard shortcuts. Learn these and you'll be one step closer to killing your mouse.
[tags]legal andrew, keyboard, shortcut[/tags]
Get more legal tips

Sign-up below to receive my bi-monthly email newsletter with free legal tips. All fields are required.




See also...
Comments