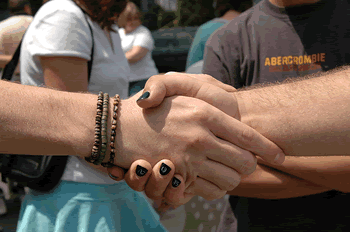 As a business owner, I've been trying to build my base of incoming referrals. I get very few clients from referrals, and I want to change that!
Referral marketing is a basic way of building business that's all about word of mouth. But true referral marketing uses a system to consistently obtain referrals. It's not just a clumsily relying on people to occasionally drop your name.
To beef up my referral marketing, I checked out three books from the local library. I want to share my thoughts on these books with you.
The books are:
The Referral of a Lifetime
My favorite book was The Referral of a Lifetime: The Networking System That Produces Bottom-Line Results Every Day
. It lays out a solid system that any business person could use to get great referrals.
You get a system. Like I mentioned, The Referral of a Lifetime
gives you a referral marketing system that you can quickly implement to obtain results. The book sets out goals for you, action steps, and even example letters and notes to send. I love this practical approach!
It keeps the list manageable. All referral marketing centers on a list of people that you try to get to referrals from. But The Referral of a Lifetime
boils this down into a list of 250 people. Focus on those 250 people and cultivate them into your referral base. Think about it: if you had 250 people who really believed in you and your business, they could refer all the business you could ever handle. Why would you even need a bigger list than that?
It's written like a story. While reading The Referral of a Lifetime
, you follow Susie through the process of learning about referral marketing. This style of writing converts the book from a dry business text to a mildly fun novel.
Did I mention that I like this book? I really think it's a great book and system for developing your referral base. I'll be returning this copy to the local library, but I might go buy it for my own library.
Endless Referrals
Endless Referrals
is the thickest book of the three. It's chocked full of good tips on referral marketing. But it's not my favorite.
It's too in-your-face. Two of the big tips in Endless Referrals
are to send personalized thank you notes and to give your contacts a scratch pad with your info on it. I like both these ideas, but I think the author's proposed designs are too loud. Instead of a tasteful, professional note card, he suggests a card with all your contact info, your picture, your benefit statement, etc. I think it goes way too far. He uses the same design for the scratch pads that he sends out; I certainly wouldn't use one like that. The idea is good, but I don't like his execution.
There's no system. Endless Referrals
provides some good tips about referral marketing. But I didn't feel like it provided a solid system to implement. Perhaps this book is better used to supplement your existing system.
Ask in isolation. One good tip I took from Endless Referrals
is how to better ask people for referrals. You should just ask: "Do you know of anyone who could use my services?" That's great, but it's overwhelming. So isolate the sphere you're talking about. Ask the person if they know of anyone in a more limited group, like their weekly golf foursome, could use your services.
Get More Referrals Now!
I wasn't very impressed by Get More Referrals Now!
. It has some good tips, but it seems a bit more limited than the two books above.
The one thing I really like about Get More Referrals Now!
is that it provides some solid tips and advice on actually asking for referrals. Specifically, it explains how to prepare contacts for the ask, how to ask effectively, and how to talk to contacts who may be resistant to giving referrals.
Go get some referrals
Why are you still reading this post? Go read one of these books and start building your referral marketing plan. That's what I'm going to do!
Photo by crysb
Get more legal tips

Sign-up below to receive my bi-monthly email newsletter with free legal tips. All fields are required.




See also...
Comments