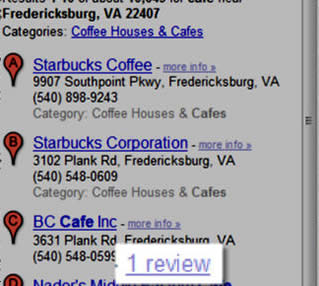 Do you like supporting local businesses? Most people do. We should all take pride in the unique things that make our neighborhoods home. But did you know that you can use Google Maps to support them?
No more yellow pages
I keep trying to convince my wife that we can throw out the paper phone books. With Google Maps and its awesome local results, yellow pages are simply obsolete.
Why should I dig out a huge book and thumb through the pages looking for the crazy category that somebody decided to stick the business in? I can just type a keyword and zip code in Google (like "cafe 22407") and find exactly what I want.
As one search industry expert wrote,
My gut feeling is that the Google Trends graph for searches for "yellow pages" is likely representative of a broad behavioral pattern of Internet users who are going to traditional Yellow Pages sites less and less. If we project the pattern out in time, we can see that searches for "yellow pages" might reduce down to nil by as soon as 2011
What are local businesses to do?
Get on Google Maps
Does your local coffee shop have a Google local listing? If not, encourage them to get with the program. The owners can add the listing, or you can even add it for them.
Now when people search for that business type in your area, they'll find the mom & pop places. But there's still more to do!
Review businesses!
We can all influence what businesses people use. That's what the reviews are all about. When a Google local listing has reviews, the listing gets a little "X reviews" link next to it. Searchers can check out the reviews to see which business will best meet their needs.
I'm not saying that your review of a sandwich place will make their business soar. But if everything else is equal, a review will definitely tip the balance. And if several people review the business, that could really mean positive results.
Of course, the same applies to businesses that suck. Just because it's local doesn't mean it's good. I'm a capitalist at heart. If the local print shop ruined your letterhead order, post a constructive and frank review in the Google listings. Don't be rude, but provide your thoughts. The business can then hopefully learn from its mistakes.
Get more legal tips

Sign-up below to receive my bi-monthly email newsletter with free legal tips. All fields are required.




See also...
Comments