I've long been a fan of Firefox's tabbed browsing. My typical workflow involves a single Firefox window with a whole bunch of tabs open.
But how can I work productively this way? It hasn't always worked so well, but I've got it nailed down now. Here's my system:
Make them smaller
I have several standard tabs that are open all day long. You've probably got similar ones – Gmail, Google Reader, etc.
Since you know these pages by their favicons, you don't need the full tab displayed. Save some screen space by installing the FaviconizeTab Firefox extension.
With FaviconizeTabs, this is what I see all day in Firefox: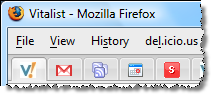 Use a set order
I always keep these five tabs in precisely the same order. This makes it quick & easy to get to the application I need.
If you have Firefox set to remember your last session, the tabs will be saved whenever you start anew. That saves some time and trouble every day!
Prioritize your tabs
I didn't always have Vitalist as the first tab. I used to have Gmail in that position. Naturally, this had me living in my email much more than I should be. A simple reordering made a vast improvement!
Google Reader and Calendar are on the same priority level for me, so they occupy the 3rd and 4th positions. That last happy icon is for Side Job Track, which I use to track my blogging jobs and income.
Use keyboard shortcuts
Firefox has handy shortcuts for moving between tabs. Learn them and use them.
The simplest are these:
CTRL + Tab – Go to next tab
CTRL + Shift + Tab – Go to previous tab
But don't forget about another neat trick. You can press CTRL + to go to a tab from 1-9, starting at the far left. So my to-do list is CTRL + 1. Get it?
How do you use tabs?
That's my cool tab testament. It's not revolutionary, but it makes a difference in my everyday life.
What do you do? Is there a spiffy Firefox extension that helps you manage tabs? Do you even use a tabbed browser? Let's chat!
[tags]tabs, firefox, browser[/tags]
Get more legal tips

Sign-up below to receive my bi-monthly email newsletter with free legal tips. All fields are required.




See also...
Comments