Brandon Hopkins just posted a spiffy video tour of his workspace. You'll get to find out neat things about him, like his taste for raisinettes and his cool desk-cat.
He did this through a project started by Josh Dorkin – What Does Your Office or Workspace Look Like?. The idea is that we all have a workspace, so we can bond together by seeing where our friends work. Cool, right? Plus, if you tell Josh about your post, he'll add you to the running list he's building (free link!).
Without further ado, my workspace is here for all to see!
It's actually made from elfa shelving. The brackets attach to the wall, then you put in the shelves (built by yours truly). This ensures my desk is high enough for my long stick legs.
Yep, that's a season of Stargate SG-1 on the desk. Teal'c is the man!!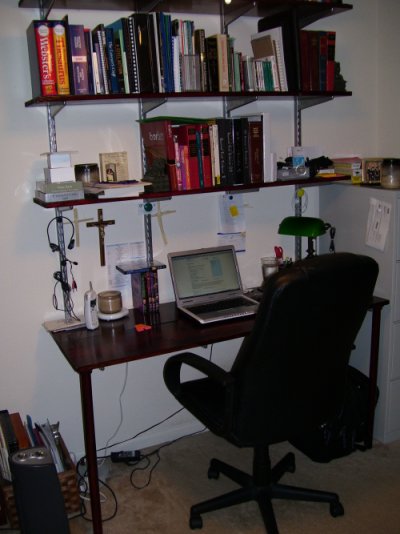 What's in your wallet workspace?
Update – June 1, 12:15 pm – David Pitlyuk is also keeping a running list of our workspaces. Thanks for the link, David!
[tags]brandon hopkins, josh dorkin, workspace, stargate[/tags]
Get more legal tips

Sign-up below to receive my bi-monthly email newsletter with free legal tips. All fields are required.




See also...
Comments