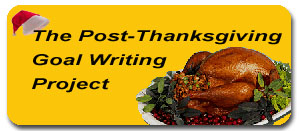 This post is my contribution in the Instigator Blog's group writing project, Post-Thanksgiving Goals. (image courtesy of Instigator Blog)
My goal between now and Christmas is quite simple. I plan to beta test a new website I am developing (with the design help of my wife). If all goes well (and people like it), the end goal is to be live and kicking by January 1.
Simply put, the website will be an online classified ad system for lawyers who work on a short-term, contract basis. It will provide hiring lawyers the opportunity to post their job needs. Contract lawyers can then respond to the "ads" by contacting the hiring lawyers. Also, contract lawyers can post their biographies and contact details, so hiring lawyers can contact them directly, without even posting a job ad.
You may have seen the new website, LawSourcing, which launched mere days ago. In a way, the site I am building is similar. They both aim to connect lawyers with contractors who can help do some of their work. However, the site I am building will focus only on contract lawyers, not any other service providers. Also, the site will not auction jobs, but will let hiring attorneys screen applicants and determine the best fit for their needs.
Finally, our pricing models are very different. Everything will be FREE until the site gets its legs. This way people can learn about it, discover its utility, and see how it works for them. After that, there will be a small, standard fee to post jobs. Contract attorneys will never have to pay a dime to respond to job postings.
What do you think of the concept? Are you interested in being a beta tester for this new site? Please post a comment or drop me a line.
[tags]legal andrew, instigator blog, post-thanksgiving goal writing project, legal outsourcing, contract lawyer[/tags]
Get more legal tips

Sign-up below to receive my bi-monthly email newsletter with free legal tips. All fields are required.




See also...
Comments